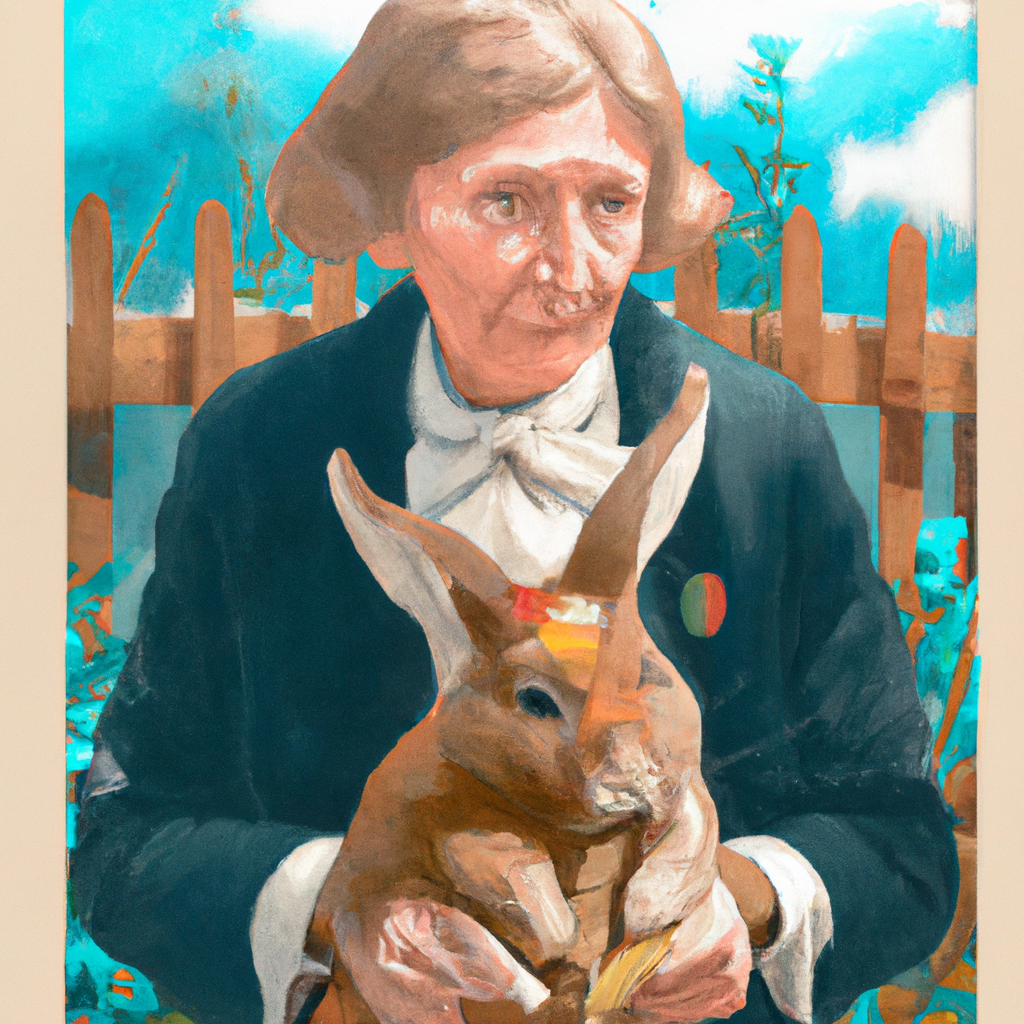 Introduction to Beatrix Potter and her legacy
Beatrix Potter's artistic legacy, including her beloved children's books and illustrations, continues to resonate with audiences worldwide.
Her contributions to literature, science, and conservation are significant and widely celebrated. Potter's work inspired generations of young readers and artists alike, with her charming characters remaining enduringly popular. Her ability to merge storytelling with natural history made her a pioneer in the field of children's literature.
Potter's stories offer a unique glimpse into the natural world, providing insights into various flora and fauna.
Her passion for the environment shines through in much of her work; she was an avid conservationist whose efforts contributed to preserving many areas of natural beauty. Her legacy continues today through charitable endeavours that promote reading and environmental education.
Interestingly, Beatrix Potter initially struggled to find publishers for her first book – The Tale of Peter Rabbit – but persisted until it was eventually published privately.
This success soon followed after it caught the eye of Frederick Warne & Co., who went on to publish all 23 of Potter's children's books.
Pro Tip: Take inspiration from Beatrix Potter by not giving up on your dreams even when faced with setbacks or obstacles along the way. Persistence pays off!
If you thought collecting stamps was boring, wait till you hear about the Beatrix Potter 50p coin collection.
The Beatrix Potter 50p coin collection
To explore the Beatrix Potter 50p coin collection with its rich history, intricate designs, and unique meanings, we've divided this discussion into three sub-topics.
Firstly, we'll dive into the remarkable stories behind the creation of each coin in the collection. Secondly, we'll uncover the symbolism and deeper meanings behind the charming designs of each coin. And finally, we'll explore the rarity and how much each coin is worth today.
The history behind the Beatrix Potter 50p collection
The collection of Beatrix Potter 50p coins holds a rich history. These coins were first introduced in 2016 to celebrate the life and legacy of one of the most beloved children's authors of all time.
The Royal Mint released five different designs featuring Peter Rabbit, Tom Kitten, Jemima Puddle-duck, Squirrel Nutkin, and Mrs. Tiggy-Winkle, which became an instant hit among collectors and fans alike.
Each design has a limited mintage, making them highly sought after by coin enthusiasts worldwide.
The popularity of these coins has led to the release of many more Beatrix Potter-inspired designs over the years. These rare coins capture not only the charm and whimsy of Beatrix Potter's beloved characters but also honor her contributions to literature.
In addition to their collectible value, owning one or more of these coins can be an excellent investment opportunity due to their rarity and increasing demand from collectors year on year.
One unique feature of the Beatrix Potter 50p coin collection is that it was the first time ever that a fictional character was featured on UK currency. This innovation enhanced the Beatrix Potter legacy even further.
Finally, a coin collection worth more than the actual coins – because let's be real, who wouldn't want to collect adorable bunnies and mischievous mice?
The design and meaning behind each coin in the collection
Every coin in the Beatrix Potter collection has a symbolic design, reflecting her world-renowned children's stories.
The Design and Meaning Behind Each Coin in the Collection:
| Character | Design | Meaning |
| --- | --- | --- |
| Peter Rabbit | A profile of Peter Rabbit sitting upright with his ears back and front legs stretched out | Depicts Peter Rabbit's energetic nature as he ventures into Mr McGregor's garden. |
| Jemima Puddle-Duck | A side view of Jemima Puddle-Duck wearing a shawl and bonnet with a sprig of chamomile in the background. | The design captures the essence of Jemima's adventure, where she was lured by foxy-whiskered gentleman to lay eggs in his woodshed. |
| Squirrel Nutkin | A charismatic character of Squirrel Nutkin dancing joyously on his hind legs holding an acorn. | The Squirrel Nutkin character reflects the tale of how he teased Mr Brown Owl relentlessly referring offensive riddles causing him to lose patience. |
| Racoon | Facing right a racoon is shown delightedly holding onto twig featuring raccoon paw prints amongst leaves. | From Potter's tale "The Tale of Timmy Tiptoes", this design represents the character and his misadventures of finding a new home and retrieving his nuts from bullies. |
It is noteworthy that each coin in the series has a unique story to tell, providing an opportunity for children to learn about these classic tales.
Rarity and value of the coins
The Beatrix Potter 50p coin collection is highly sought-after by collectors due to its rarity and value. These coins were issued by the Royal Mint in honor of Beatrix Potter, a renowned English author and illustrator who created popular children's stories like Peter Rabbit.
A Table showcasing the rarity and value of different coins in the Beatrix Potter collection is as follows:
| Coin Name | Rarity | Value |
| --- | --- | --- |
| Peter Rabbit | Rare | £20 – £30 |
| Jemima Puddle-Duck | Scarce | £10 – £20 |
| Mrs. Tiggy-Winkle | Common | £3 – £5 |
It should be noted that these values are subject to change depending on the condition of the coin and market demand. Furthermore, rare versions of these coins can fetch significantly higher prices at auction.
The word on the street is that some Beatrix Potter 50p coins have certain design features or minting errors that make them even more valuable to collectors. For instance, a Peter Rabbit coin with a less defined nose was recently sold for over £5000.
If you are considering investing in this collection, it's advisable to do thorough research beforehand. Look out for details like minting errors, limited edition releases or unusual designs as these can increase a coin's worth significantly.
In summary, investing in Beatrix Potter 50p coins can be a lucrative opportunity for collectors, but it's essential to approach it with caution and knowledge. Knowing which coins are rare and what unique design features they possess can help you make an informed decision and potentially increase your investment returns.
Get your paws on the Beatrix Potter 50p coins before they hop away!
How to obtain the Beatrix Potter 50p coins
To obtain the Beatrix Potter 50p coins easily, you need to know where to look. Purchasing the coins from official sources and finding the coins through coin dealers and private collectors are the solutions. In this section, we'll explore these two sub-sections and help you find your way to add the coins to your collection.
Purchasing the coins from official sources
When looking to acquire Beatrix Potter 50p coins, it is best to purchase them from authorized distributors to ensure their authenticity. This can be done through official coin dealers, specialized banks, and numismatic websites. These sources offer various collector's cases and packaging options that enhance the overall appeal of the coins.
It is advised to shop around before settling on a specific distributor as costs may vary, and some sources will have limited availability due to high demand. Additionally, there are several online auction sites where the coins can be found but take caution as the legitimacy of sellers cannot be guaranteed.
Avoid purchasing these coins from unauthorized street vendors or unregulated online sources as they may sell counterfeit or low-quality versions that falsely claim to be authentic.
Historically, Beatrix Potter character-themed 50p coins were first issued by the Royal Mint in 2016 to celebrate her life's work on what would have been her 150th birthday. Since then, several series of these collector's items have continued to be released each year with new designs featuring beloved characters such as Peter Rabbit and Jemima Puddleduck among others.
Don't bother trying to haggle with private collectors, they're more protective of their rare coins than a mama bear with her cubs.
Finding the coins through coin dealers and private collectors
Through the engagement of numismatists and personal collectors, acquiring the exquisite Beatrix Potter 50p coins may not be a hassle. Here are five points to consider:
Participate in online auctions hosted by verified sellers.
Establish good relationships with reputable coin dealers for exclusive access to first releases.
Visit relevant forums to gain insights from knowledgeable users on the latest trends in numismatics.
Join collector's groups for tips on how to differentiate genuine sought-after pieces from counterfeit ones.
Contact private collectors who have publicly announced having extra coins available for sale or trade.
When contemplating the acquisition of these valuable coins through private dealers and collectors, it is important always to prioritize caution over quickness or eagerness. Although personal networks can be a useful resource when seeking out rare pieces, verifying their authenticity before purchase is crucial in avoiding scams or low quality coinage.
One day, a father and daughter gathered their collection of Beatrix Potter coins only to find that they were missing one. They scoured local Coin shops looking for the missing piece, but none had it. A family friend recommended they try befriending local numismatic societies online where they finally found an enthusiast who was willing to trade his piece for another valuable coin they were willing to part with – leading them to realize how ardent enthusiasts could offer fellow collectors unique access to coveted coins.
Collecting Beatrix Potter 50p coins is like hunting for Peter Rabbit – it requires patience, persistence, and a bit of luck.
Collecting tips for Beatrix Potter 50p coins
To become a savvy collector of Beatrix Potter 50p coins, you need to master the art of keeping them in good condition, displaying them beautifully, and anticipating the future trends of the collection.
Learning these sub-sections will help you preserve the value of your collection, showcase it with pride, and make informed decisions about your investments.
Keeping the coins in good condition
Maintaining the impeccable condition of your Beatrix Potter 50p coins is imperative to keep them prized possessions. Keep the coins away from any possible damage or wear and tear by handling them with gloves, storing in an airtight container, and avoiding exposure to humidity and direct sunlight.
To retain their value, avoid cleaning or polishing the coins. Instead, use a soft cloth to wipe off any accumulated dirt or dust. Never use chemicals or abrasive materials on the coins as they might cause scratches, spots or discolouration.
Lastly, be cautious while transporting or presenting your collection in public events as scratches may reduce their value over time.
The Royal Mint confirms that only 1.4 million Beatrix Potter 50p coins have been released so far.
Show off your Beatrix Potter 50p coin collection like a true baller, with custom-made velvet-lined display cases fit for a queen's jewels.
Displaying and showcasing the collection
If you're looking to exhibit your Beatrix Potter 50p coin collection, there are several ways to showcase them:
You could utilize a display cabinet or frame with individual slots or sections designed for the coins.
Another option is using a presentation album with clear plastic pockets to hold and protect each coin.
Alternatively, mounting the coins onto a large canvas displayed on the wall can create an impressive and eye-catching focal point.
To make your collection stand out further, consider adding information cards explaining the history behind each coin or notable characters featured on them. Use colored backgrounds or frames within your display to complement the colors of the coins.
For an added touch of creativity, use themed decorations and props around your exhibition space for visitors to interact with. For example, placing a Peter Rabbit plush toy in front of your display adds an engaging element that connects with children and adults alike.
A significant number of Beatrix Potter 50p coins are still thought to be in circulation. According to The Royal Mint website, they estimate around "75% of all Beatrix Potter circulation 50p coins have been taken out of circulation by collectors".
Looks like the future of Beatrix Potter 50p collection is brighter than a carrot in Peter Rabbit's hands.
The future of the Beatrix Potter 50p collection
The collection of Beatrix Potter 50p coins will continue to thrive amongst collectors and investors due to their increasing demand and limited mintage. The Future of the Beatrix Potter 50p Collection
| Factors | Description |
| --- | --- |
| Mintage | Limited numbers released each year, with some coins discontinued. |
| Potential Value | Rarity of certain designs increases their value over time. |
| Popularity | The enduring charm of Beatrix Potter's characters guarantee interest from both new and established collectors. |
It is important for collectors to stay informed about upcoming releases and new designs in the Beatrix Potter 50p collection. Updates on limited editions, commemorative issues, or new additions are crucial for maintaining a valuable collection.
Don't miss out on the opportunity to add rare coins to your collection, stay up-to-date by subscribing to a newsletter or following reputable sources on social media. Secure your investment with diligence and continuing interest in the world of collectible coins. Get your paws on these 50p coins before they hop away into someone else's collection.
Conclusion: Why the Beatrix Potter 50p coins are a must-have for collectors.
Beatrix Potter's 50p coins: A valuable addition to any collector's repertoire. These classic coins have enjoyed widespread popularity for their rarity, history, and cultural significance.
Collectors should invest in the Beatrix Potter 50p coins for reasons such as showcasing their passion for numismatics, enjoying a pleasant aesthetic experience for all ages, appreciating Britain's heritage, and seizing the opportunity to diversify their coin collections with exotic pieces. The Beatrix Potter 50p coins have been cherished by many and promise value retention throughout time.
Collecting the Beatrix Potter 50p coins allows collectors to showcase their passion for numismatics amongst like-minded peers
The charming aesthetics of these collectibles appeal to both young and old generations alike
As an important figure in British culture, Beatrix Potter adds cultural significance to the country's numismatics
Diversifying one's collection with rare collectibles from different eras is a wise investment move that promises long-term value retention.
Moreover, each coin has its unique story that engages collectors with enthralling anecdotes regarding its design process or cultural significance. Therefore, investing in these one-of-a-kind Beatrix Potter 50p coins is essential for every collector seeking diversity in his or her collection.
Pro Tip: Investing in uncirculated brilliant uncoloured specimens of the Beatrix Potter 50p coins promises greater value appreciation opportunities than circulated coloured ones.
Frequently Asked Questions
1. What is the Beatrix Potter 50p coin?
The Beatrix Potter 50p coin is a commemorative coin issued by the Royal Mint in the UK to honor the work of children's author and illustrator Beatrix Potter.
2. When was the Beatrix Potter 50p coin released?
The first Beatrix Potter 50p coin was released in 2016 to mark the 150th anniversary of her birth.
3. How many Beatrix Potter 50p coins are there?
There are currently 15 Beatrix Potter 50p coins in circulation, each featuring a different character from her popular children's books.
4. Can I use the Beatrix Potter 50p coins as legal tender?
Yes, the Beatrix Potter 50p coins are legal tender in the UK and can be used to purchase goods and services.
5. What is the value of the Beatrix Potter 50p coins?
The value of the Beatrix Potter 50p coins varies depending on their rarity and condition. Some coins have sold for thousands of pounds at auction.
6. Where can I find Beatrix Potter 50p coins?
Beatrix Potter 50p coins can be found in circulation, but they are also available to purchase from the Royal Mint and other coin dealers.