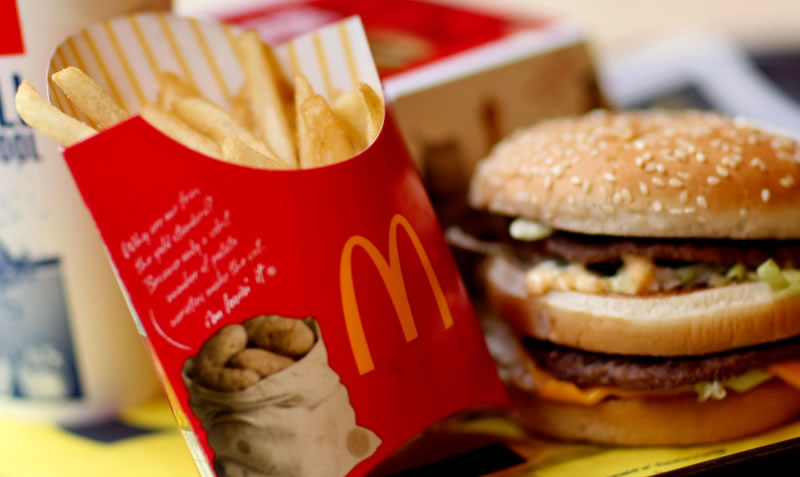 McDonalds may have had a bad rap in recent years with its not so healthy burgers and fries, but everyone loves to enjoy a tasty McDonald's meal now and then, including yours truly.
If you're a budget-savvy student though, you might already know that some meals don't come cheap. You don't want to be paying full price for a Big Mac Meal (large of course) do you?
Does Mcdonalds do student discount?
Forget about your Greggs student discount, Luckily, we know a few money saving hacks for old Ronald that we think you'll love.
1. Use McDonald's App
Whether you're a McDonald's regular or not, downloading the app could save you a quid. The fast-food chain often offers freebies to first-time app users.
If you've used the app before, you can always find discounts in the app's Deals section and also pick up the famous Big Mac for 99p offer.

Install the McDonalds UK official app to order your food ahead and beat the queues!
2. Get Free Extra Toppings
McDonald's now allows the customisation of each burger when you're ordering from the in-store DIY consoles. You can add or remove patties, cheese, and even add more free toppings, such as ketchup, mayo, or mustard. You don't have to pay for the standard burger any more.
Those gerkins cost money! Just pay for the food you love.
3. DIY Chicken Salad
If you'd like a lighter meal, a chicken salad is always a great option (sorry, I'm trying not to laugh here). But instead of ordering the Crispy Chicken Salad from the menu, get a Spicy Chicken Snack Wrap and a Shaker Side Salad. You'll save £1.11, and the meal is heartier (and healthier).
Plus your friends will look at you in a new light.
4. Get a Big Mac and Fries For Only £1.99
How would you feel about a Big Mac and fries at only £1.99, always? I know, I can't believe it either. The trick is to use the 'Food for Thoughts' code printed on your receipt on McDonald's website, take a short survey, and redeem your cheap meal.
You'll get a new Food for Thoughts code on your new receipt, so you can basically use this trick for as long as you like.
5. DIY Big Mac
Big Mac is a favourite, but if you can live without an extra slice of bread and the specific sauce, you can make an "almost Big Mac" and save £1.60.
Call it Big Mac's younger brother. All you have to do is add an extra patty and cheese to a cheeseburger and you're done. Happy days.

Building your burger is the cheapest option to save - don't pay for those gerkins!
6. DIY Cheese Toast
If you've run out of money, order a DIY cheese toast for only 99p. Once again, it's simple cheeseburger customisation, but this time you'll have to remove all ingredients except for the bun and cheese.
One for the connoisseurs amongst you.
7. Avoid the Sugar Tax on Drinks
The new Sugar Tax on carbonated drinks can take its toll on your wallet. Or you can avoid it by ordering a fizzy drink that contains no sugar. Such as Diet Coke.
Plus you won't feel as bad taking the bus home rather than walking. So its all good.
8. Save With McNuggets ShareBox
If you're eating out with your mates and all of you like chicken, choose a large McNuggets ShareBox instead of getting several 6-piece boxes. In fact, six McNuggets come at £3.19, whereas a ShareBox contains 20 McNuggets and costs only £4.79.
Its a simple mathematics principle. You're getting more value.
9. Get Free Hot Drinks
Did you know that you can get hot drinks for free by collecting hot drink stickers? You only need six to get a seventh hot drink for free.
A thing to investigate if you're drinking your morning tea or coffee at McDonald's on a daily basis.
10. Use Your NUS Card to Get Freebies
Lastly, make use of your NUS card to get freebies. McDonald's offers a free Mayo Chicken, Cheeseburger or McFlurry with any Extra Value Meal to anyone who presents a valid NUS card.
A nice bonus if you fancy a bigger meal – so flash the plastic.

Free Food - If you are a student make sure you take advantage and pick up a free McDonalds with your NUS card