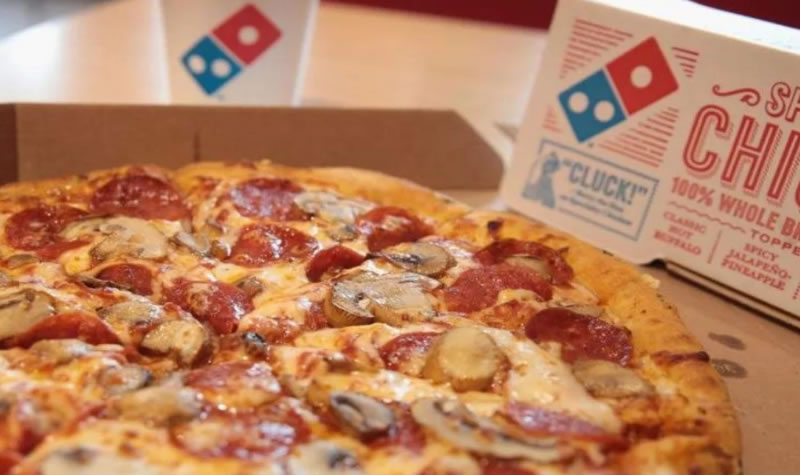 Starving students don't eat out too often, but if you'd like to indulge yourself a pizza, these money saving hacks could save the day.
Does Dominos do a student discount?
Yes Dominos does do student discounts. The best way to get a discount at Dominos is to sign up to the Unidays app. you can then get a dominos student discount of 35%. Check them out and try as many as you can to cut off the costs on your Domino's pizza bill.
1. Get a Large Dominos Pizza Instead of Two Regular
When eating with your mates, it's often tempting to order two regular pizzas instead of one. That's because we often believe there is more pizza in two regulars than in a large one.
Well, the news is that the surface of one large pizza is bigger than that of two regular pizzas together; so, next time, just order one large instead of two regular.
2. Use Dominos Free Topping Changes
Did you know that Domino's offers free topping changes? Yes. You can get a veggie pizza and turn it into something else by changing one of the toppings.
Want pepperoni? Order a cheaper veggie and change the topping with salami. Delicious and around £2 cheaper.
3. Create Your Own Dominos Margherita
Are you a fan of the classic Margherita? Domino's sells it, but it's more expensive than a "create your own" with sauce and cheese only.
A nice trick if you want to keep an extra pound in your wallet.
4. Use Dominos on the O2 Priority App
Did you know that you can get a Domino's pizza for just £1 if you're an O2 client?
Domino's has a Monday only offer that will get you a pizza with one topping for just £1, as long as you don't mind collecting it. Just show the O2 code and enjoy your meal!
5. Domino's NHS/Armed Forces Discount
Not many people know it, but if you're an NHS or armed forces student, you can get your Domino's cheaper than everyone else. Oh yes!
You can get up to 50% off your order. This applies to most stores in the country, and you need an ID to get it.
6. 50% Off Is Better Value for Money
You have surely heard the offer "Buy one, get one free!" It sounds tempting, doesn't it? But opting for the 50% off deal is the best way to go.
If you chose the first version, you would pay more.
7. Use Dominos Online Discount Codes
Are you ordering online? Know that Domino's has numerous discount codes that you can use to save some cash on your orders just like a kfc student discount..
Simply use the code at checkout, and you can save a quid on your delicious pizza.
8. Collect Your Order
If you don't live too far from a Domino's, it is better to go there and pick your order instead of opting for home delivery.
Delivery often adds an extra cost to your bill.
9. Always Order You Dominos Online
Online is the way to go. You can find a lot of offers when you order online, as the internet is full of discounts and bundles you can choose from.
10. Save on Plates
We bet you're not really a fan of doing dishes, and disposable plates come at a cost. So, why not ditch them altogether and use the pizza box? Just tear it apart and serve the slices directly on the cardboard.
Toss everything into the bin when you're done, and use the savings to order another Domino's pizza.